Frequently asked questions
What is Porchfest?
---
Porchfests are annual music events held across the United States and in Canada on front porches. Started in Ithaca, New York in 2007, porchfest events bring local musicians and neighborhoods together to celebrate and create a sense of community. Porchfest music festivals began as a means for neighbors and local community members to highlight artists on front porches. Bands, singers, and instrumentalists participate in the festival for no other reason than to showcase their talents and engage the community. Musicians voluntarily take to the "stage" on porches at their designated times and perform for the public. Admission is FREE and no tickets is required. But, we do ask that you RSVP
---
What should I bring with me? What should I leave at home?
---
Great questions! We advise you to bring your own folding chair, water and an umbrella just in case we get sprinkles or to block the sun from beaming down on you. Also, be sure to wear comfortable shoes and bring good vibes!
---
What vendors will be present?
---
We are glad you asked! Here is the vendor list: - Erica Nichols/ Visual Artist - Fearless Threads - Paparazzi Jewelry
---
Is there a rain date?
---
Yes, but let's hope we don't have to use it. Should we be rained out we will move the fun to June 2, 2019.
---
Who organizes SE Porchfest DC?
---
Porchfest exists because community decided to step up and make it happen. The organizing committe, exists to manage front-end logistics, coordinate performances and promote the event. Organizers, performers, porch hosts, and others all participate as volunteers and all give freely of their time, talents, resources, and hospitality as a gift to the community and to each other. We also owe thanks to the sponsors who helped us elevate the visibility of this event. The 2019 presenting sponsors are Digital Pioneers, Syland Town Center, Hillcrest Commuity Center, DCTV, MOAA, Planet Fitness of Penn Branch, P & S, Idea Charter School, Anna Julia Cooper Public Charter School, and Cedar Realty Trust (CDR). For attendees, all normal rules of law and order apply and, just like any other day, everyone remains responsible for their own behabior and welfare when moving from house to house. Here is a look back at last year's festivities: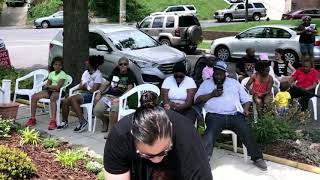 ---
What's new for 2019?
---
Look for news on how this year's SE Porchfest will unfold as we get closer to the event. Announcements get made on our social media pages. Please follow us on Instagram, Twitter and Facebook @porchfestdc
---
I want to play or host a band next year!
---
All you have to do is signup using this link.
---
Is there a hashtag?
---
Yes, please hashtag #Porchfestdc and #SEPorchfest for all your tweeting, Instagramming and Facebooking needs.
---
Is Porchfest walkable? And is it kid friendly?
---
Yes - the entire route is about a mile long in distance. you should except to walk, ride bikes or scooters, or push strollers as you move from one porch to another along a determined route to partake in the festivities. In terms of acess, we apologize in advance as there may be some challenges within the route. W Street SE has sidewalks under repair.
---
What are the commuting options? Where can I park?
---
Great question - Hillcrest, DC is accessible by car, train, and bus. The community is just 6 miles from city center. The closest metro train is Naylor Road mtero (1.3 miles distance from kickoff location) and second nearest is Potomac Avenue metro (2.3 miles distance from the kickoff location). Bus options- M6 towards Fairfax Village and W4 towards Deanwood Station. Parking- In Hillcrest there are tons of free street parking! It may be a good idea to park near the middle of the route and walk to the houses/artists you want to support!
---
Eating and drinking?
---
Feel free to bring your own food and beverages. Just remember that each venue is someone's home or business, so please be sure to clean up after yourself. Or, don't pack any food and instead support the local food vendors! - Fact and Saucy and Comfort Personal Chef selling desserts. PLEASE NOTE: There are currently no plans for an officially contained PorchFest festival area. The entire event takes place in individually owned yards, the public streets in between and some commercial areas. When in public, you are subject to the usual laws regarding alcohol consumption.
---
Will there be bathrooms?
---
Yes, there will be a Porta-Potty located on the side of 2411 33rd Street Southeast, Washington, DC, USA house. This house is close distance to Host Homes 5 and 6. There are also public bathrooms at Francis Gregory LIbrary until 5PM and Planet Fitness off Pennsylvania Avenue (the old DMV location). PorchFestdc host homes are not be obligated to provide any facilities.
---
​Are you closing the streets during this festival?
---
Currently the plan is for street closure only from 32nd to 33rd of Denver Street Southeast.
---
Do the artists get paid?
---
No. All planning and participation is done on a volunteer basis. Admission is free and open to the community. Artist performances serves as a gift to the neighborhood and to the community. There will be tip jars at each porch and at the public locations for attendees to show their appreciation of the generosity of performers. Performers are also free to sell their cd's and other merchandise at the event should they choose.
---
---